When you hear planned townhome community, do you get visions of retirees in Florida? Well you should broaden your horizons (and also give those retirees some credit--they usually seem like they are really enjoying life)! Buying a home in a planned community can be a great option for people in all walks and stages of life.
Buying in a planned townhome community versus a single family home is often an economical choice. But there are many other significant perks that come from living in a community. For instance, our Cornerstone Townhomes offer many amenities that you just can't find in a single family home in Colorado.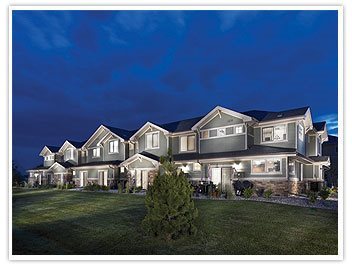 Cornerstone Townhomes Exterior
You don't have to worry about getting your home mixed up with your neighbor's, because we have 6 unique floorplans to choose from. Every townhome boasts a private deck and attached garage as well as energy-saving features throughout.
But the biggest advantage of living in a planned community is often what is outside your own front door. The Cornerstone Townhomes community includes a 5000-square-foot community clubhouse with an outdoor, heated swimming pool, year-round spa, a full kitchen, business center, two playgrounds, sand volleyball, and state-of-the-art fitness center. And the community is located in close proximity to parks, trails, restaurants, banks, kids' activities, shopping, and DIA.
So whether you have small children, are just creating your first "empty nest," or are a single business professional, Cornerstone Townhomes offers the best of planned community living. And hey, if you want to get a bridge game going some evening, we're sure your grandparents down in Florida would approve.
Come visit the sales office and see what else Cornerstone Townhomes have to offer!
Cornerstone Sales Office
4603 E 97th Ave,
Thornton, Colorado, 80229
- CLOSED MONDAYS
- Tuesdays, Wednesdays, and Fridays 10:00 am – 3:00pm
- Thursdays 2:00pm – 7:00pm
- Weekends 12:00pm – 5:00pm