Whether you're doing a bathroom remodel or building a master bathroom from scratch, the focal point will obviously be the shower and/or tub. There are many different options for how to approach both shower and tub installation--from which type of shower pan to use, to whether to have a separate shower and tub or not, to whether to spring for that awesome clawfoot tub.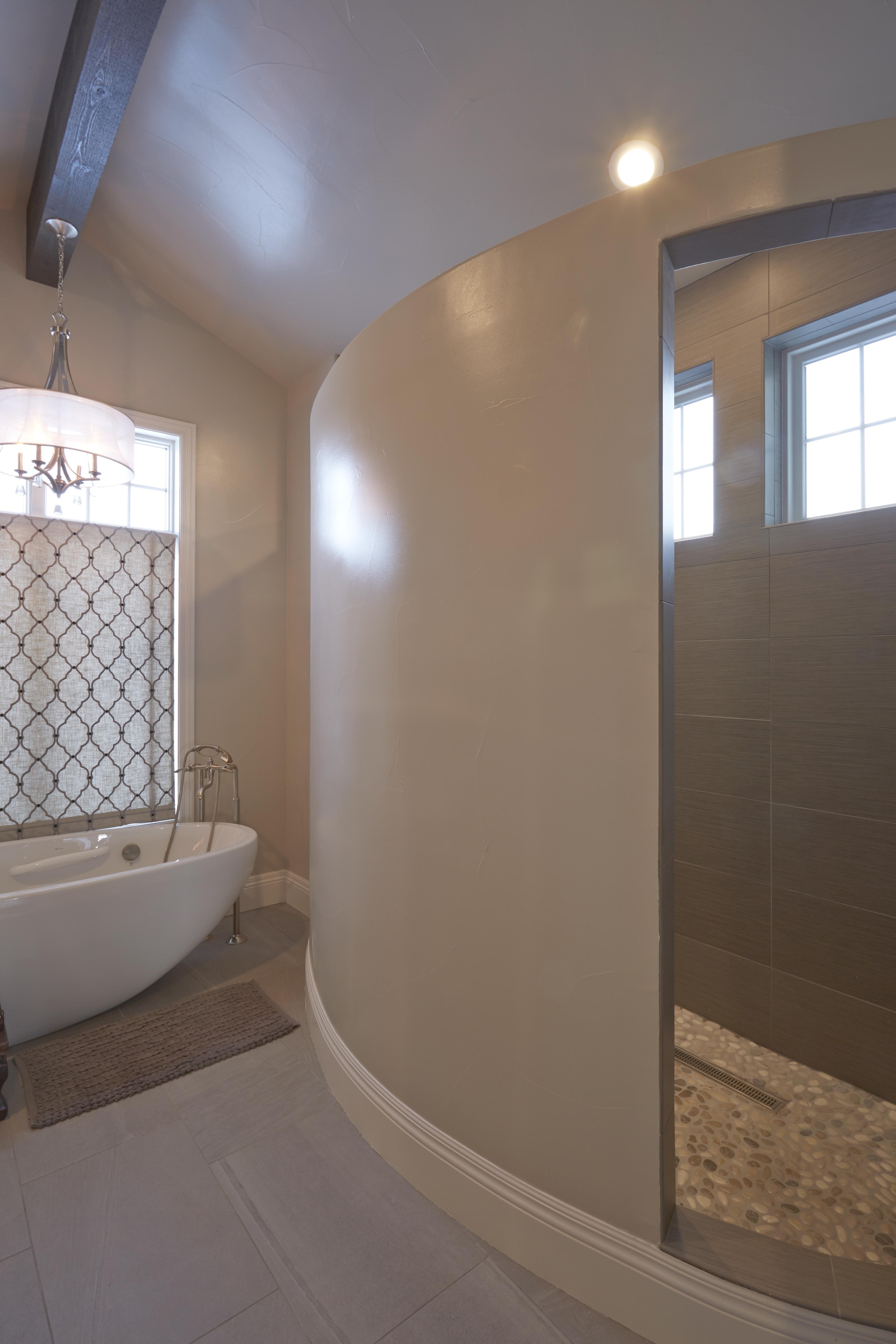 Freestanding Tub and Pebble-Floor Shower in a Recent Custom Build
Here are some of the things we think you need to know about shower and tub installation in your new bathroom:
Shower pan types:

There are many different ways to create a shower pan, the shallow basin that catches the water as you shower. On the lower, more DIY-friendly end, there are pre-cast bases made of acrylic, fiberglass, cultured marble, or solid surface. On the higher end, you can do a custom tiled shower pain (we would say this one is best left to the professionals, but particularly intrepid DIYers can check out this tutorial if they feel up to the challenge). You can also do a poured concrete shower pan.

Shower doors:

You can, of course, do a basic clear or frosted glass shower door, but we encourage our clients to think a little more creatively. After all, this is likely what you will notice first when you walk into a bathroom. If you have really interesting tile work in the shower, then by all means go with a clear door and walls that will allow you to show it off, but otherwise you might think of adding some interest to the door itself. You can do clear glass on the top half and frosted glass on the bottom for a mix of privacy and clarity, or you can add trim and interesting hardware to spice things up. Here are some great inspiration pics from Apartment Therapy.

Tubs:

Even if you aren't the bath-taking type, we highly recommend installing a tub that is deep enough to fit a grown man comfortably. There's no harm in going a little bigger than you need, and there is really nothing more disappointing than deciding to take a nice, hot bath and discovering that the water barely clears your ankles. And while jacuzzi tubs were all the rage for a while, they can be noisy and costly to maintain, so most homeowners are now steering clear. Beyond function, though, you have a world of choice regarding the style of your tub. We're partial to a good old-fashioned clawfoot tub. And, actually, there are many clawfoot styles that work perfectly with a modern bathroom. Expect to pay $1000+ for a clawfoot tub--and keep in mind that this often doesn't include the cost of the faucet.
Itching to put some of these ideas into action? Give us a call to set up a free consultation. You can reach Jason at jasonbrown@ascentbuilders.net.